Welcome to the information about Emerge Sensory Superstars, we're so glad you're here.
I know first hand the challenges and joys of having a family member with additional and complex needs and finding spaces where we could be ourselves and connect with other families on the same journey, was invaluable to me.
So with that in mind we've created multiple opportunities for you, your child and your family to come to events designed specifically with them in mind. They all centre around sensory play experiences, a welcoming, judgement free atmosphere and opportunities for you to connect with other families. In 2023 we've been pleased to partner with The Tim Tebow Foundation to host 'Night to Shine' in Feb; we'll be continuing events at our Morayfield and Warner locations and of course we'll finish off the year with our successful and well loved Sensory Sensitive Christmas Show, giving your whole family the opportunity to come together to celebrate Christmas in a stress free and fun environment.
We are also adding in provision for our Easter Shows...more info coming soon!
Our next event is our Sensory Sensitive Coffee Morning at Emerge Church Morayfield (166 Morayfield Road) on Saturday 24th June from 9am - 12pm. You can register yourself and any others attending by clicking the button below and any information you can give us about the particular needs of your child just helps us to create an atmosphere that's right for them.
We look forward to hosting you and your family in 2023.
Ps Neil Gray and the Superstars Team.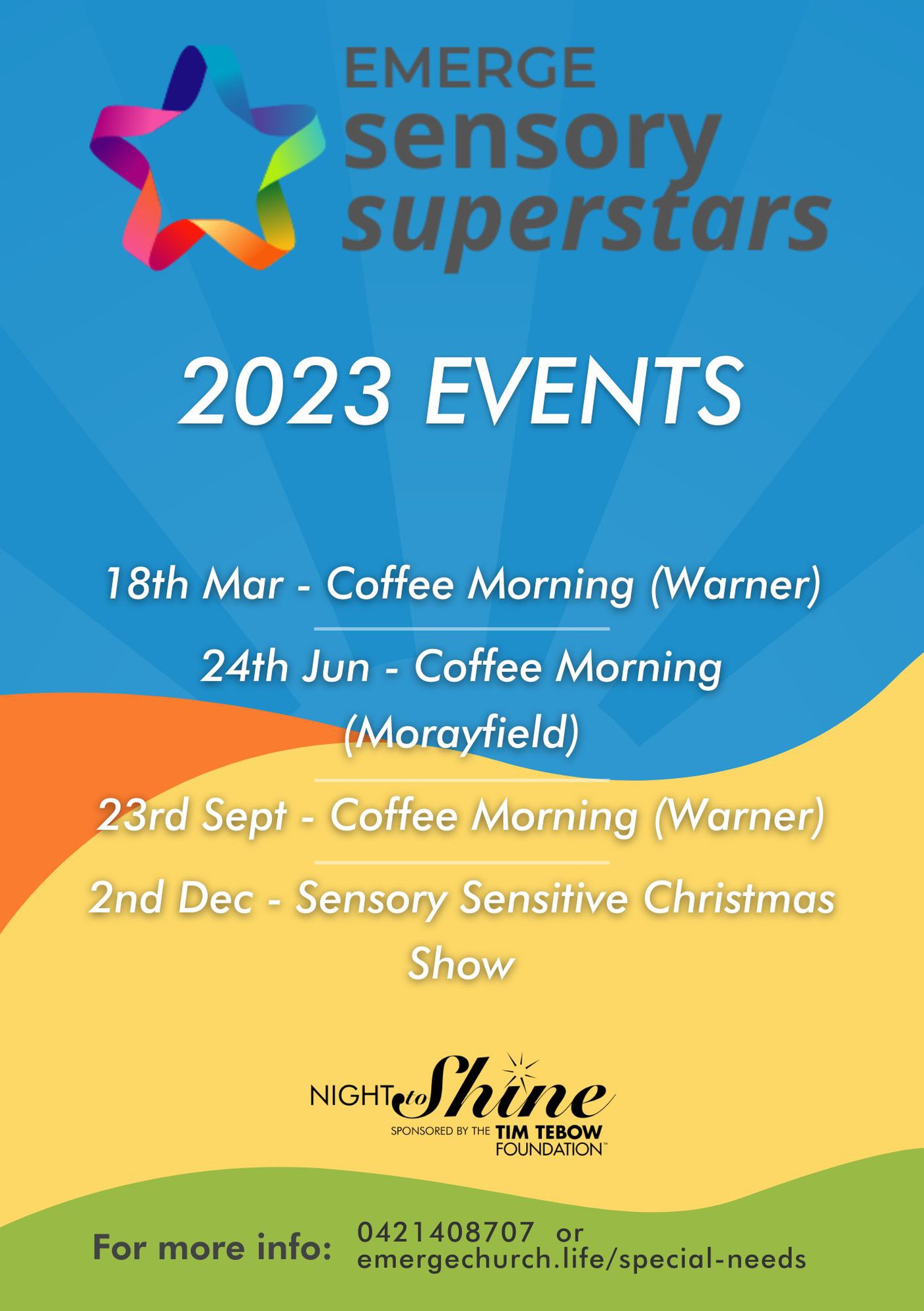 Providing one-on-one care to children with special needs and creating opportunities for parents to take a breather while their children are cared for in a supportive and safe environment.
Each Sunday, provision can be made for children with disabilities to be paired with a trained buddy who will guide and support them during the service. Children with additional needs worship and learn with kids in their age group. If a child becomes uncomfortable, our buddies will often provide him or her with an alternative activity or a break.
Advance scheduling is necessary to assure adequate staffing to provide one-to-one care. If you have a child with special needs and would like them to be placed on our waiting list, please register your child and we will get you started.
Once we receive your registration, we will contact you to schedule in a meet and greet. They will be placed with a buddy who will care and support them.
Occasionally our buddies have prior experience working with special needs children or adults, but often this is not the case. We do provide some basic training BUT since you know your child best, we rely upon you to help the buddies learn how to best care for your child.
At Emerge Church, we acknowledge that disability not only affects a single child, but the entire family.
Our vision is to:
Train volunteers to give children the opportunity to learn about God's love and purpose for their life
Give each child an opportunity to feel supported and a sense of belonging
Give parents reassurance that their child is safe to allow them to participate and volunteer in church
Create opportunities for parents to have a break from on-going care giving responsibilities while their children are being cared for in a safe and loving environment
Please note that parents / guardians will be contacted to take their child to the bathroom.
Emerge Church has a rigorous Safer Churches Policy in place as well as a robust Health & Safety Policy...both of which all volunteers have been trained in and comply with.